NALC and the U.S. Postal Service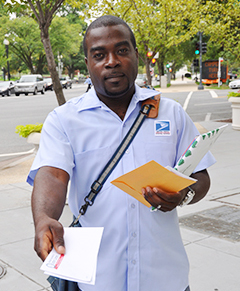 Letter carriers who deliver mail in the United States are public servants who uphold their public trust by ensuring the safe passage of the mail. We are career government employees who take pride in our work, in our nation and in our employer: The U.S. Postal Service.
We deliver everywhere in the United States to homes and businesses six days a week, and sometimes seven days a week. We care about our customers and the communities we serve. Letter carriers often deliver in the same communities for our entire working lives. We're familiar neighborhood figures who sometimes help in dramatic ways while making our rounds. We often send for help when senior citizens fail to collect their mail, alert residents to fires, aid accident victims and even stop burglaries.
But mostly, we deliver your mail. Regardless of distance, we deliver at the same low rate—the most affordable in the industrialized world. The Postal Service receives no tax dollars for operating expenses and relies on the sale of postage, products and services to fund its operations. And it's well-trusted, as it was ranked as the nation's fifth-most trusted company and the most trusted government agency in a 2013 study by the Ponemon Institute.
The Postal Service is also the largest civilian employer of military veterans in the United States and more than one in five letter carriers is a veteran.
The Postal Service is the center of a large and expansive mailing industry. According to the 2012 Mailing Industry Job Study conducted by the Envelope Manufacturers' Association, 8.4 million jobs are supported by the U.S. mailing industry. This equates to 6 percent of all U.S. jobs. The mailing industry also supports $1.3 trillion in sales revenue and more than 8.6 percent of U.S. gross domestic product (GDP).
Although there are 10 times as many private-sector jobs in the mailing industry as in the Postal Service, more than 76 percent of these mailing industry jobs depend on the delivery infrastructure of the Postal Service.
So, the next time you see your letter carrier, know that we are the face of the Postal Service and this giant industry, happily delivering the last mile directly to your front door.