Food Drive tool kit
The Annual Letter Carriers'
Stamp Out Hunger® Food Drive
The Second Saturday in May

Stamp Out Hunger® is a registered trademark of the National Association of Letter Carriers,
and may not be used or reproduced without prior written permission of the National Association of Letter Carriers.
---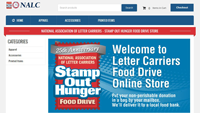 Buy your official Stamp Out Hunger® merchandise online
The online Stamp Out Hunger store is now available, with products available for purchase in quantities starting at just one—no bulk ordering necessary. Click here to get started.
Send us your photos!
You can upload photos from this year's Food Drive by dragging and dropping the files into a special Hightail "cloud" folder—no user name or password required. Once you get on the site, it's self explanatory. Click here to access the Hightail folder. You can also email photos to social@nalc.org. Please identify your city and/or NALC branch. Photos may be posted online or published in a future edition of The Postal Record, NALC's monthly magazine for members.
---
Still can't find what you need? After reading through these pages you still have questions regarding the Food Drive, email us at communityserviceshq@nalc.org.