Voter Guide
MAKE A PLAN
COVID-19 has changed so much in this country and that includes Election Day. In normal times, letter carriers would have a few more months to prepare for Election Day, but these are not normal times. Numerous states have either transitioned fully to vote-by-mail or absentee so that voters don't have to sacrifice their health for their vote. In North Carolina, voters began requesting ballots on September 4 and several states are following suit. With so many changes, NALC is encouraging members to make their voting plan and make it now.
Without question, this election will be one of the most consequential for letter carriers. This year, letter carriers will be the backbone of our democracy, delivering more ballots than any other election in history. Amidst this prideful responsibility to the American voting public, we must not lose sight of our own plans to vote.
No matter where you live, this year will be different. Are you registered to vote? Does your state allow for vote-by-mail/absentee this year? Do you have to apply, or will that ballot be sent to your home? To ensure that you have the most accurate information about what your state is doing and what you need to do to make sure your vote is counted, take a minute to use the form below to get information regarding your state and submit whatever you need immediately. DO NOT WAIT!
Form works best in Chrome and Firefox web browsers.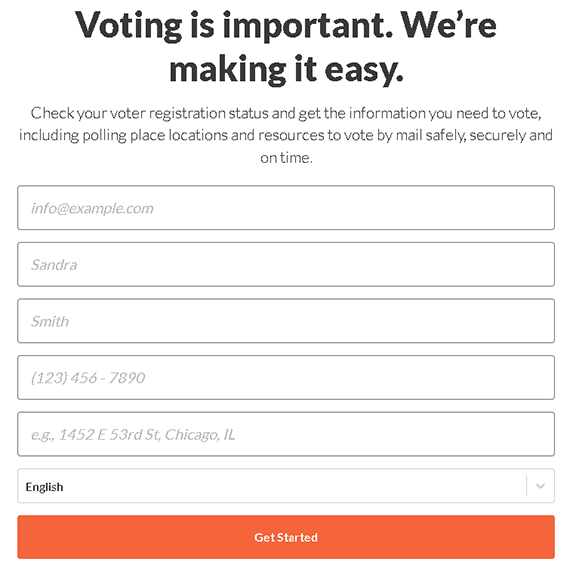 GET INVOLVED/VOLUNTEER
NALC members have long been seen as leaders in grassroots efforts, given our experience going door to door six (and sometimes seven) days a week. But Sunday is our day to make a difference with political activism. Its the day for union members to engage fellow union members one-on-one about the issues that bind us all, working to get out the vote early by vote-by-mail, or simply turning out union members on Election Day. In these days of COVID-19, these efforts involve contacting voters by phone, and here's your chance to help.
Virtual Volunteer Phone Banks
Click on the link to go to the sign-up page.
Please include your branch number in the comments section of the sign-up page.

| | |
| --- | --- |
| Sunday, September 20 @ 6pm ET | |
| Sunday, September 27 @ 6pm ET | |
| Sunday, October 3 @ 6pm ET | |
| Sunday, October 11 @ 6pm ET | |
| Sunday, October 18 @ 6pm | |
| Sunday, October 25 @ 6pm | |
| Sunday, November 1 @ 6pm | |
Power to the Polls
As coronavirus continues to impact Americans across the country, there has been a staggering decrease in the number of people who are able to work the polls -- which could mean closed polling places and long delays during the November election.
The labor movement is partnering with with Power the Polls, a first-of-its-kind initiative to recruit poll workers to ensure a safe, fair election for all voters.
Will you help us address our nation's critical poll worker shortage? You can help make sure we have a safe, fair, efficient election for all voters, and potentially get paid to do it.
Sign up to Power the Polls today.
Once you've signed up, depending on your jurisdiction, you will either be contacted by Power the Polls, a partner organization, or your local election administrators regarding your application.
The process to become a poll worker can be a bit complicated, but don't worry: the Power the Polls team will help you along the way. In the coming weeks, Power the Polls will host briefings to provide you with more information about the application process and what to expect when you become a poll worker.
In the meantime, we also ask that you encourage your friends and family to sign up to be poll workers and help ensure a safe and fair election.